Exhibitions
On Now – until 24th February – PREM, DIETRICH & CROSS
Three artists have come together to exhibit their stunning work!
Adrienne Dietrich, Deva Prem & Maggie Cross showcase a selection of their favorite work here at Reyburn House Art Gallery. Interesting techniques and a variety of medias highlight the various talents of these ladies.
________________________________

Past Exhibitions
'Dancing With Colour' — 15th January – February 3rd
An Exhibition presented by the Riverside Painters
We are an enthusiastic group of painters motivated by the beauty
of the world around us and the messages it has for us as artists.

Using water colours, pastels. oils and acrylics we let our imagination
guide us toward our choice of colour and form to decide what we
choose to paint.

The result may be restful or delicate, show movement like a
dancer or an angry sea, strength and brilliance of sunset or
distant mountains and the love of nature pictured as
paintings of scenes or animals.

There are many other subjects that give us inspiration.

In this way we portray our ideas with individual style,
combining line with colour, capturing the ever changing
environment which is all involved In the 'Dance of Colour' as we paint.
Members Exhibition — 18th December 2018 – 12th January 2019
Members of the Northland Society of Arts (NSA) have come together to produce a fantastic array of artwork that is now on display at Reyburn House Art Gallery. As always, it is free entry, but we welcome any donations.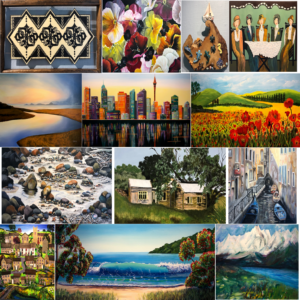 Members "FLORAL" Exhibition — 27th November – 16th December 2018
Members of the Northland Society of Arts have put together a fantastic array of floral themed artwork. Come support and buy from your talented local Northland artists by visiting Reyburn House Gallery.
If you would like to be a part of our next exhibition it's open to all members of the Northland Society of Arts (NSA). Subscription is only $35 with added discounts for family, seniors and students. Apply online or collect a form when you come view the latest "Floral" exhibition. (http://www.reyburnhouse.co.nz/membership-form/)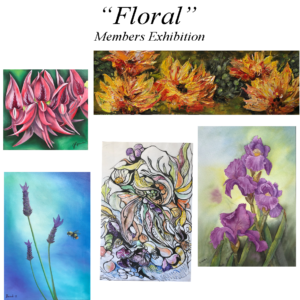 "CELEBRATING 60 YEARS" — 30th – 25th November 2018
A special commemorative exhibition highlighting the Northland Society of Arts' (NSA) history through the lens of its permanent collection – a historical sweep of artists and styles from the 1890s.

ART OF DISTINCTION — 9th – 28th October 2018
A selection of fine oil artwork from the winner of the people's choice, Janice Clifton Wykes.
CALENDAR COMPETITION — 3 – 30th September 2018
This exhibition is showcasing all those entries that were submitted for our 2019 calendar. Dougie Chowens selected 13 from all the entries to make up the calendar, which is available for purchase now. Please join in and fill out your People's Choice vote.
Sunday 8th July Aoteroa QUILTERS
19th June to Sunday 8th July 2018
Natural wonders of the World Quilt Challenge
Some of the 90 Quilters exhibiting using their own personal artistic quilt style. Extended due to popularity . . .
10 JULY: "Rotary Club of Whangarei South – Photographic Winners and Commended Exhibition"
10th July to Sunday 29th July 2018
Tauraroa Area School and Nga Kura mo Te ako O Whangarei Kahui Ako 4 (community learning 4).
The Competition aims to encourage young people to experiment with photography, use digital or traditional methods of photography, show interpretation of topic and express their ideas through the medium of photography.
The works shown are the Winners and Commended from the over 60 photographs submitted.
10 JULY: Artist Adrienne Dietrich Exhibition "RUST "
10th July to Sunday 29th July 2018
"I began painting in the early1980's as a raw beginner, "couldn't draw a straight line". l started by using oil paints, then graduated with pastels and now . . . .anything goes!
In recent years, the works of the Expressionists, their strong use of colour and line, has given my work a new vibrancy and strength. l use a variety of paint mediums nowadays, my favourites being watercolour, gouache, pastels and pen& wash".
>Click here to view our past exhibitions.