REYBURN HOUSE ART GALLERY
Welcome to the home of the Northland Society of Arts. The society owns and operates out of Reyburn House, a category two historic listing and the oldest pioneer settlers house in Whangarei. Nearby, is Riverside Art Studio, where various art classes are held. This Charity based society aims to promote visual art in Northland through exhibitions and training.
Pop into Reyburn House Art Gallery when you are next at the scenic Town Basin in Whangarei to see what exciting exhibition we have up and fall in love with some art.
Exhibitions at Reyburn House change monthly so check back often!
---
---
Currently in the Gallery…
Kellie Edwards
---
"Finding Refuge in Light"
A figurative and landscape artist based in Northland producing work in both oils and soft pastels.
Kellie studied Art and Design full time at Auckland Technical Institute, then took up a scholarship at Auckland Society of Arts majoring in painting. She has won awards in national and international art competitions and in 2020 was juried an associate member of the Pastel Society of America.
Her aim is to create beautiful reminders to prioritise the moments that give the lift we need to nourish our spirits. Moments of awe in the landscape, moments of connection, special quiet moments of reflection and moments celebrating big leaps of faith – all points to remember and treasure.
This exhibition "Finding Refuge in Light" is a collection of pieces produced from Kellie processing her little part of the communal stress that we have been sharing.
"I DO care, my heart and gut can attest to that. I help people around me with practical support where I can. If I really want to send a message I'll write it on my car. (Yes, I did that.)

Where I want to dwell is on the big picture, a sense of hope and enjoyed feelings we all share. For me it isn't an escape but choosing refuge and inspiration in light." Kellie Edwards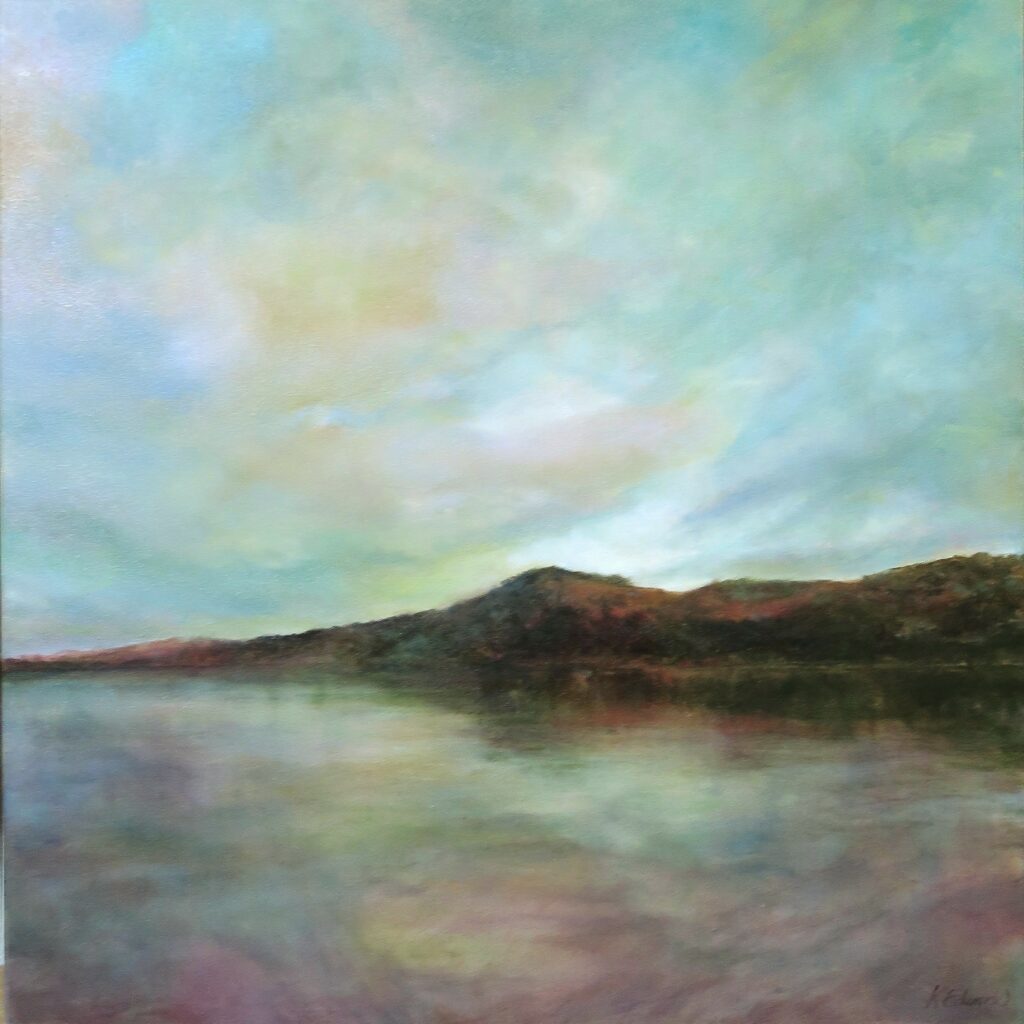 Image: "Oruawharo River Kaipara Harbour NZ", Kellie Edwards


Yvonne Clapperton
---
Yvonne works primarily in oils, using brushes and palette knives. She also use acrylic and textures and enjoy the difference these mediums give to her work. Tutored by Elena Nikolaeva, Yvonne loves to paint bold and bright as well as subtle and atmospheric.

Yvonne's work has been sold in galleries in NZ and is in homes in NZ, Australia and the US.
"Northland and New Zealand has such a diverse selection of wonderful subjects for me to paint. I try to reflect our wonderful area in my works, and I hope you derive pleasure from viewing my art." Yvonne Clapperton
Image: "Bouquet of Flowers", Yvonne Clapperton
Beautiful works of art, well worth a look!
---