WORKSHOPS, CLASSES & GROUPS
Reyburn has a wonderful Art studio space just across the lawn from Reyburn House Gallery where various classes and workshops are held.
We have regular weekly classes run by amazing local artists and pop-up day workshops where you can submerse yourself fully into your creative self. Reyburn Studio also hosts several self tutored groups that get together if you are just looking for artistic company.
Please contact the various tutors directly to enroll.
---
CLASSES
ACRYLIC PAINTING

– Tutored class
Mondays:  9am – 1pm
Jan Stephens      garyanjan@slingshot.co.nz      (09) 4355944
---
PORCELAIN DOLL CLUB 

– Group
Mondays:  2nd & last Monday of each month in the evening
Lynaire Hawkins      (09) 4335894
---
PARTY HOUSE GROUP 

– Untutored Group
Tuesdays:  9am – 1pm
Dree Wilkinson      (09)4362079
---
PASTELS

– Untutored Group
Tuesdays:  1pm – 4pm
Beryl Underwood     gazzabo@gmail.com     021157229809 / 4360305
---
WEDNESDAY  PAINTERS

– Untutored Group
Wednesdays: 9:30am – 12:30pm
Lori Dods     0274986073
---
RIVERSIDE PAINTERS

– Untutored Group
Thursdays:  9am – 12:30pm
Di Badham     diannebadham@gmail.com     027 610 0307 / 09 4344026
---
FIREBIRDS

– Pottery – Tutored
Thursdays:  1pm – 6:30pm
(located in pottery studio adjacent to main studio)
Wendy Cunliffe     rodwendycunliffe@xtra.co.nz     021 0691 631 / 09 4351015
---
SCIENCE of the SOUL

 -Yoga Group – Tutored
Thursdays: 5pm – 7:30pm
Jenny Sutcliff     info@bowenclinic.co.nz     (09) 4594000
---
OIL PAINTERS

– Tutored Class
Fridays: 10am – 1pm
Janice Clifton Wykes     vjwykes@gmail.com     021550852
---
AVANT-GARDE

– Tutored Class
Saturdays: 9:30am – 3:30pm
Linda Sabbage     lindasabbage@gmail.com     0226447699
---
---

WORKSHOPS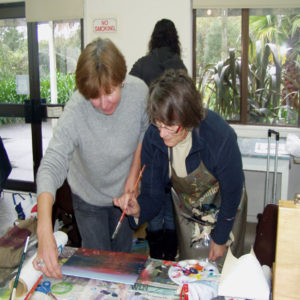 Reyburn has various Workshops run throughout the year, please check for new workshops added either here or at Reyburn house.
What we have on at the moment:
---
UNFINISHED WORKS. BACK TO THE FUTURE! – One Day Workshop.            
February 10, 2019 (Sunday)         10.00am – 3.00pm  (5 hours)       
Fee $50 (NSA Member  $45) 
Get out your paints and brushes and warm yourself up to a creative new year by taking a critical look at those unfinished canvases you have lying around. What bothers you? Where will you start? Clear the decks and make space for new masterpieces!
Now's your chance to get some help with anything you may have begun and want to develop, or have another go at it.  Elena will help you look at work afresh, solve particular problems, and get you moving.
Or just come and work on an idea you've been hatching – may be a technique or new materials you've experimented with and want to explore further.
MATERIALS LIST:  
Your unfinished canvases, (you are welcome to bring several)

Acrylics/oils, (or other media you want to use)

Your favourite brushes, palette knives, palette, cleaning material, etc.
---
LEARNING FROM WELL KNOWN NZ ARTISTS – HAROLD COOP –   One Day Workshop. 
February  17  2019 (Sunday)       10.00am – 3.00pm (5 hours)        
Fee $50 (NSA Member  $45)
If we are going anywhere in our artistic journeys we must keep broadening our artistic horizons and knowledge of painting and creative techniques.
To this end, in this workshop, we study the art of a well known, contemporary, New Zealand artist, Harold Coop; who represents his world with boldness, vibrant colours, rhythms, movement and "a touch of gold", combining these to evoke intangible feelings about our familiar New Zealand landscapes.
Those who came to Elena's last  workshop on "Working with Gold Leaf", will expand their knowledge at gold leaf applications.  If you didn't make it to that session, you will love experimenting.
Harold Coop's art will inspire us to find ways to incorporate some of his techniques and compositional principles into a work of our own.
We will NOT copy Harold Coop but step out on our own to transform a landscape into a vibrant, decorative canvas full of life and colour.
MATERIALS LIST:  
Medium to big canvas
Acrylics
Brushes
Gold leaves, for art work (Not a lot and least expensive sort)
Binding medium (or other suitable medium for gold leaf application)
Masking tape
Chalk or a pastel stick for drawing your composition on canvas
A palette
Cleaning material
A photograph (optional)
---
ABSTRACT PAINTING WITH BRUSH, SPONGE AND SPRAY PAINT – One Day Workshop.
February 24, 2019 (Sunday)    10.00am – 3.00pm (5 hours)       
Fee $50  (NSA Member  $45)
This workshop is about experimenting with ways we can combine the use of traditional tools (including brushes and sponges) with spray paint (which we use outdoors to avoid fumes).
You will create an abstract painting on a medium to big size canvas using various techniques, including masking techniques to apply spray paint – masking tape, masking liquid, handmade paper masks and stencils.  Elena will demonstrate the making of various types of masks, the sequence of the application and how to remove them safely. We will work both indoors and out.
MATERIALS LIST:  
Medium/large canvas
Acrylics
Your favourite brushes
Masking liquid (for watercolours)
Gold leaf (optional)
Sponges
Heavy paper for making stencils
Palette
Chalk or a pastel stick for sketching
Cleaning material
Images (optional)
NOTE: Each student is asked to bring ONE can of spray paint in colour of your choice. Think of variety, because the class will then share all of these. You may buy it at Arthur's Emporium for $9 (paint for graffiti).
COMPOSITION #2 – A STUDY OF THREE MORE OF ROBERT BURRIDGE'S BASIC COMPOSITION TYPES –   One Day Workshop.  
March  3, 2019  (Sunday)           10.00am – 3.00pm  (5 hours)       
Fee $50 (NSA Member  $45) 
Composition, composition, composition cannot be over-emphasised!
Some of important rules for "winning" types of compositions in painting have been developed by Robert Burridge. He has created formulae for 12 compositional variations. We practiced three of these last year and now we tackle three more. They cover a range of subject matter which will help you deal with important compositional issues.
Elena will demonstrate each variation and you will practice each formula on a separate small canvas, to produce your own personal reference resource.
MATERIALS LIST:
3 small canvases (the size you are comfortable with),
Acrylics/oils,
Your favourite brushes,
Scraps of dark paper,
PVA glue, palette,
Cleaning material.
---
STRETCHING THE LIMITS OF YOUR TOOLS: FAN BRUSH – One Day Workshop
March 10, 2019 (Sunday)       10.00am – 3.00pm (5 hours)         
Fee $50  (NSA Member  $45)    
Your knowledge and familiarity with the range of art equipment available today can pay off in saving you time and effort at the easel.
Art supply shops have hundreds of brushes of all shapes and sizes. Fan brushes are amongst the most versatile and used widely today.
This workshop is about discovering the scope and limits of fan brushes and the techniques for using them to achieve a desired result. Elena will demonstrate the "tricks" – which brush to select for particular subject matter or for style of painting.
To help you master these techniques you will paint a landscape using both synthetic and bristle fan brushes of two sizes.
NOTE: we will use only fan brushes for this session so consider bringing both synthetic and bristle, large and small.
MATERIALS LIST:
Medium size canvas
Acrylics/oils
At least 2 FAN BRUSHES
Palette
Cleaning material
An image to play with
---
---
ENQUIRIES AND ENROLMENTS
To enquire about the NSA Workshops, or to apply to enrol, please phone in the first instance your course Tutor.
Alternatively phone Reyburn House Gallery (09) 438 3074, or email us with your full contact details – phone, address, email, so we can respond with the appropriate follow-up. (Gallery hours are 10.00 a.m. to 4.00 p.m. Tuesday to Friday and 10.00 to 2.00 p.m. Saturday and Sunday.)
Payment for each workshop to be made to the tutor, in cash or by cheque, on the day of each workshop.