Workshops, Classes and Groups
Reyburn has a wonderful Art studio space just across the lawn from Reyburn House Gallery where various classes and workshops are held.
We have regular weekly classes run by amazing local artists and pop-up day workshops where you can submerse yourself fully into your creative self. Reyburn Studio also hosts several self tutored groups that get together if you are just looking for artistic company.
Please contact the various tutors directly to enroll.
CLASSES & GROUPS
– Generally run every week
---
---
ACRYLIC PAINTING

– Tutored class
Mondays: 9am – 1pm
---
PORCELAIN DOLL CLUB

– Group
Mondays: 2nd & last Monday of each month in the evening
Lynaire Hawkins (09) 4335894
---
PARTY HOUSE GROUP

– Untutored Group
Tuesdays: 9:00am – 1:00pm
Dree Wilkinson (09)4362079
---
EXPRESS YOUR INNER ARTIST

– Tutored Group
Tuesdays: 9:30 am – 12:30pm
Gina Weigel 021 949954
---
PASTELS

– Untutored Group
Tuesdays: 1pm – 4pm
Beryl Underwood gazzabo@gmail.com
021157229809 / 4360350
---
WEDNESDAY PAINTERS

– Untutored Group
Wednesdays: 9:30am – 12:30pm
Lori Dods 0274986073
---
RIVERSIDE PAINTERS

– Untutored Group
Thursdays: 9am – 12:30pm
Di Badham diannebadham@gmail.com
027 610 0307 / 09 4344026
---
FIREBIRDS

– Pottery – Tutored
Thursdays: 1pm – 6:30pm
(located in pottery studio adjacent to main studio)
Wendy Cunliffe rodwendycunliffe@xtra.co.nz
021 0691 631 / 09 4351015
---
SCIENCE of the SOUL

-Yoga Group – Tutored
Thursdays: 5pm – 7:30pm
Jenny Sutcliff info@bowenclinic.co.nz (09) 4594000
---
OIL PAINTERS

– Tutored Class
Fridays: 10am – 1pm
Janice Clifton Wykes vjwykes@gmail.com 021550852
---
---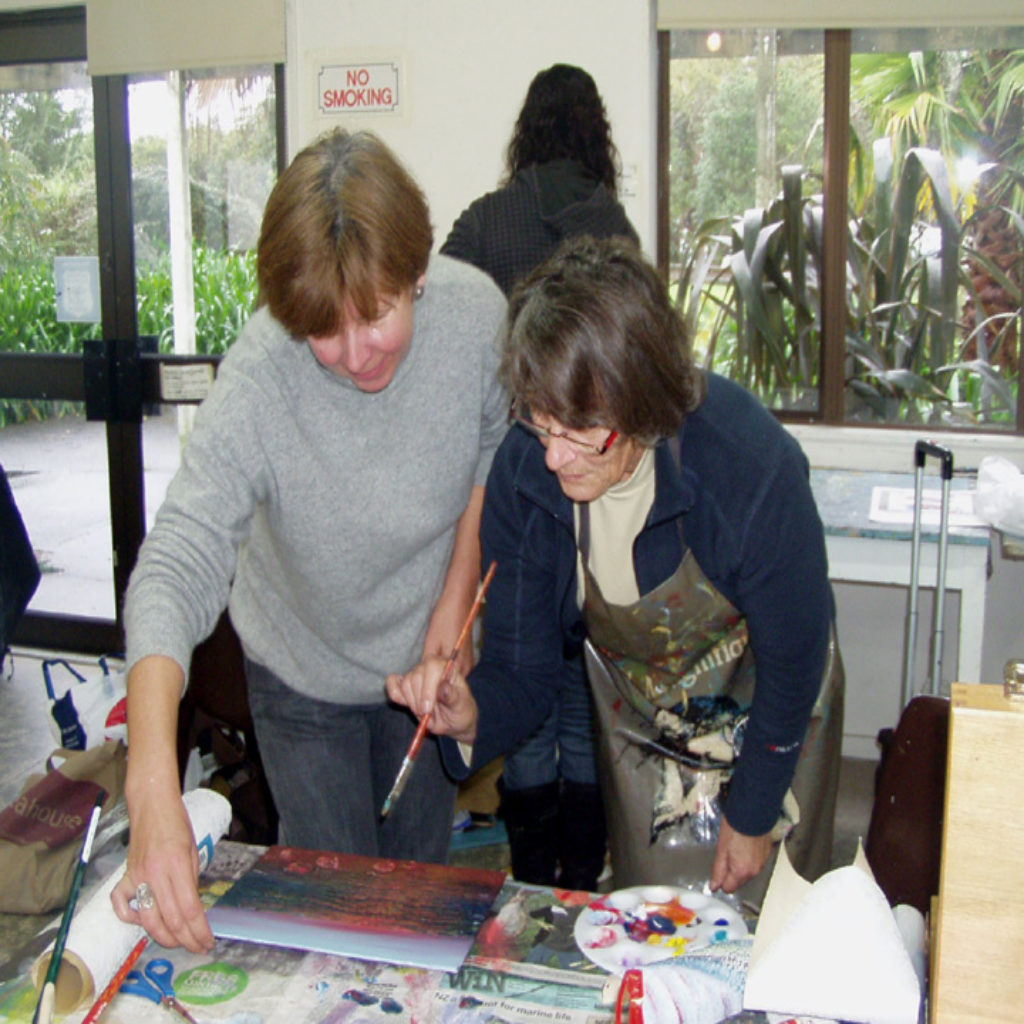 WORKSHOPS

Reyburn has various Workshops run throughout the year, please check for new workshops added either here or on the Reyburn house notice board. Become a member of the Northland Society of Arts and get notified when new art classes arrive.
LAUGH PLAY CREATE – Kim Kerr
LAUGH-PLAY-CREATE

FIVE WORKSHOPS – Elena Nikolaeva
Elena-Nikolaeva-Workshops

---
ENQUIRIES AND ENROLLMENTS
To enquire about the NSA Workshops, or to apply to enroll, please phone in the first instance your course Tutor.
Alternatively phone Reyburn House Gallery (09) 438 3074, or email us with your full contact details – phone, address, email, so we can respond with the appropriate follow-up. (Gallery hours are 10.00 a.m. to 4.00 p.m. Tuesday to Friday and 10.00 to 2.00 p.m. Saturday and Sunday.)
Payment for each workshop to be made to the tutor, in cash or by cheque, on the day of each workshop.